Supporting the Introduction of Department-Specific Tenure-Track Systems
The Departmental Tenure-Track Certification System was introduced in 2019 with the aim of supporting the introduction of department-specific tenure-track systems. The essence of this system is that screening, interim evaluation, and tenure review relating to personnel matters is conducted at the departmental level, while support systems and training programs are administered by the L-Station. Allowing the "Tenure Vision," "Tenure-Track Period Job Classification," and "Tenured Post Job Classification" to be set independently at the departmental level makes it possible to tailor the screening and training of personnel to departmental strategies. Research funds for the first and second years after initial recruitment will be disbursed to tenure-track faculty members employed by certified departments. In addition, interested individuals are also able to participate in training programs offered by FOHRED.
Because departments certified under this system are also entitled to use the Hokkaido University Tenure-Track System, it is possible to tailor the use of both systems to specific purposes.
Certification Process
Departments seeking certification fill out the requisite items on the prescribed form and then submit this to the office in charge together with the necessary documentation. When designing systems for the initial introduction of a tenure-track system, support will be provided by FOHRED and the office in charge.
The details of departmental applications will be reviewed by the Leader Development Promotion Committee (LDPC) to confirm that the necessary requirements have been met. Tenure-track faculty members affiliated with certified departments are eligible to receive research funding and other support from FOHRED.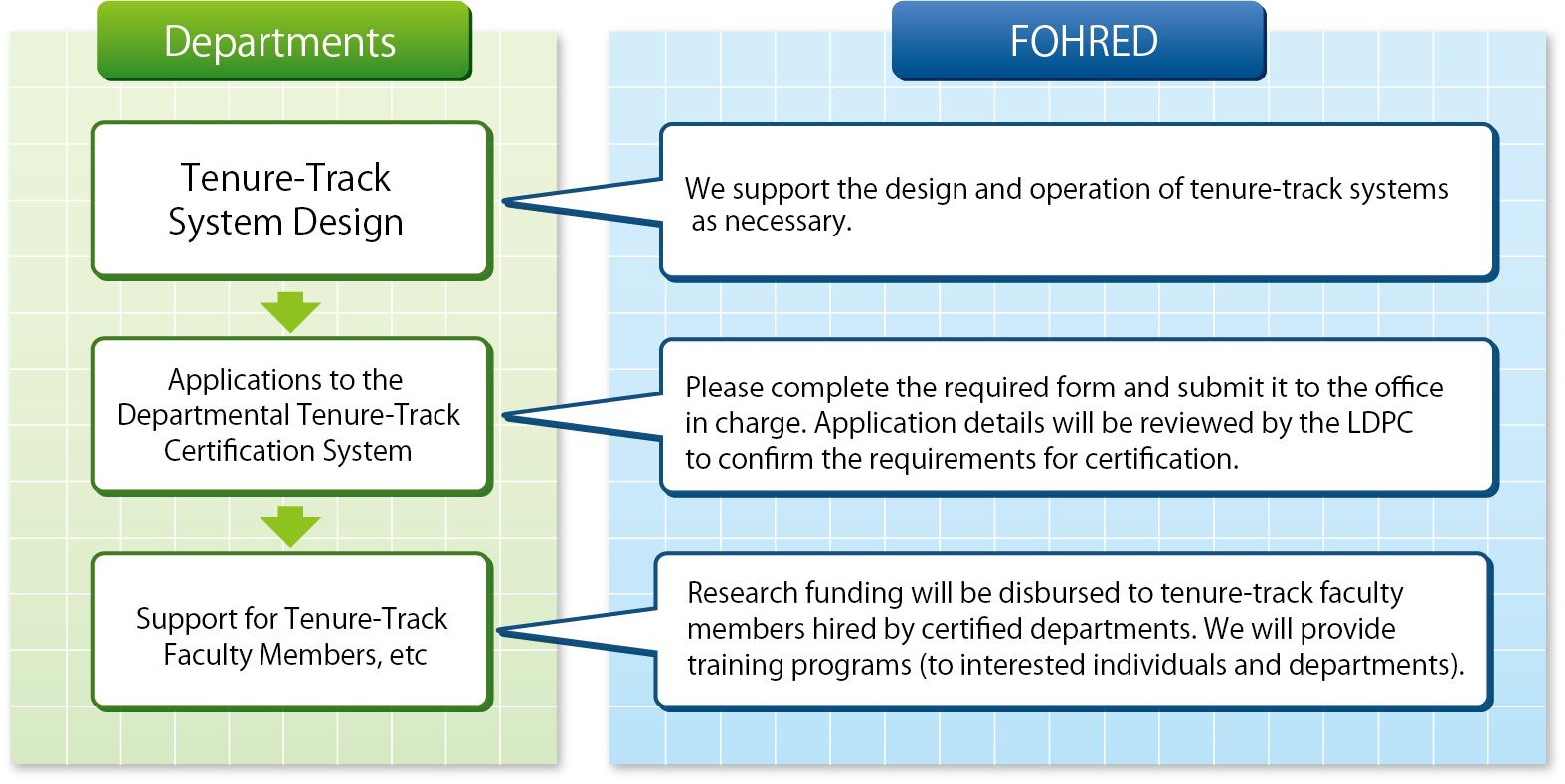 Certification criteria
The requirements for certification under this system are as follows:
Establishing rules for the tenure-track system
Securing the availability of tenured posts for tenure-track faculty members
Building an independent research environment for tenure-track faculty members
In principle, the effort relating to research activities must be at least 50% for 5 years following recruitment.
The assignment of departmental advisors
Conducting interim evaluations
Conducing fair and transparent tenure reviews
Availability of a training plan for tenure-track faculty members